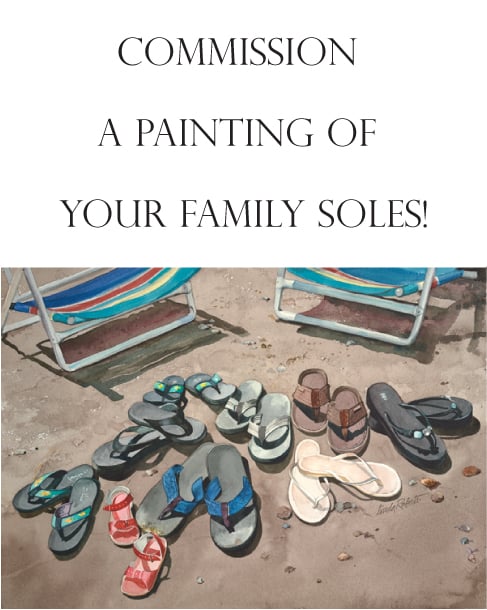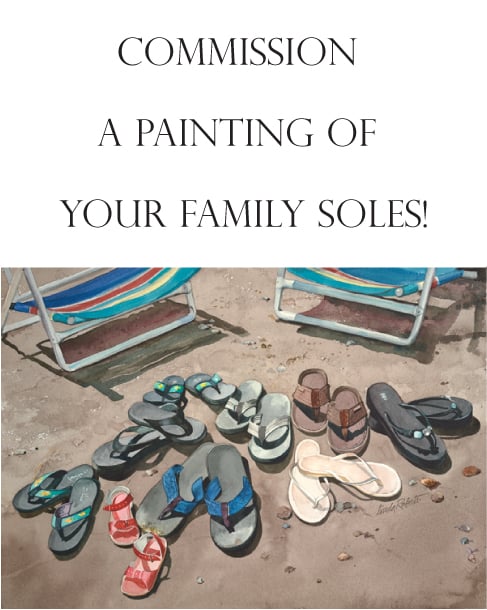 Your own Family Soles original painting
$1,000.00
Commissioned Linda Roberts originals are some of the most sought after collector's pieces available in the watercolor medium. Currently Linda is working on a series of commissioned paintings called Family Soles where she creates original watercolor paintings from client photographs of their family's shoes.

Submit one or two photos of your family's shoes. Linda will review the pictures and suggest an arrangement. You will receive one pencil sketch for approval.

These original watercolor paintings make wonderful gifts for mothers, fathers, grandparents, newlyweds, new parents, or for an occasion such as Christmas, an anniversary or birthday! And, if you'd like to share your painting with additional friends or family members, contact us about having prints or note cards made from the original!

TO ORDER
Please email Linda through our CONTACT page on the menu above to receive instructions for forwarding a photograph or photographs (Linda prefers that pictures are mailed due to monitor color variation but an emailed photo is also acceptable).

Click "ADD TO CART" and proceed with checkout.

QUESTIONS?
Please visit the CONTACT page on our menu above and email Linda with any questions you have.

SHIPPING
We will ship your order 10 to 14 days after the date we receive your photograph. You will be notified via email when we have your photo in hand.

Packages will be mailed standard USPS unless expedited shipping is requested at time of order. Standard USPS shipping cost is a flat rate of $20.00. Expedited shipping cost will be calculated and emailed to you prior to shipment.

USER AGREEMENT
Linda looks forward to painting an original watercolor for you! By placing your custom painting order through this website you confirm that you have read the terms and conditions, that you understand them, and that you agree to be bound by them.

TERMS & CONDITIONS
Your custom painting will reflect Linda's general style as reflected in her paintings on this website. Your original watercolor painting will not be an exact replicate of your photograph; colors and details may vary. You will be provided with one initial rough pencil sketch for approval. Additional charges may apply based on photo scene complexity, quality and completeness of reference materials/photos provided, amount of correspondence necessary, or any other factor that increases standard production time. Copyright for paintings by Linda Roberts remain with Linda Roberts and may be used by Linda Roberts for commercial purposes.